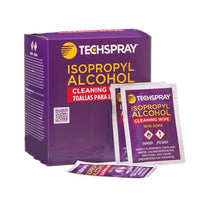 Techspray isopropyl Alcohol Wipes
99.8+% pure, anhydrous isopropanol for all-purpose cleaning. Excellent for tape head cleaning, removal of fluxes, light oils, polar soils, and white mineral residue. Can be used as a thinner for most fluxes.
Available boxing sixes:
-1 piece -50 piece / box - master case of 10 boxes = 500 pieces.