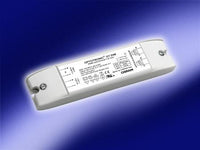 Osram OT/RGB/DIM (51517) - LED Dimming Module
OPTOTRONIC control interface modules are compact, electronically stabilized control interface units with input line voltages ranging from 10-24 VDC for use with most popular LED power supplies.
OPTOTRONIC control interfaces complete the system of innovative control gear and open up even more possibilities for dynamic control of LED based lighting solutions. They are ideal for use in color mixing applications in combination with mutli-color LED modules.