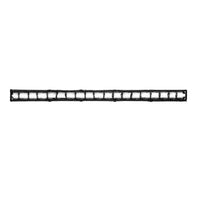 Honeycrates Baby Bee ATT 50 degree 1.3 for astera titan tube
Attaches directly to light in seconds Fits Astera Titan Tube
Unique hexagon shape all but eliminates sag
Folds up easily
Includes custom carrying bag

The superior honeycomb construction utilizes six sides and has been incorporated into a durable fiberglass frame. The unique design all but eliminates sag and adds more lighting control in both vertical and horizontal cuts. The only soft fabric lighting control grid with a lifetime warranty on the frame.